Terence M. Reed, DDS
Dr. Reed retired in the summer of 2013. He has truly been missed since he left by his patients, his staff and myself. We wish him and Nancy all the best going forward! Below is a letter that Dr. Reed wrote to his patients before leaving our office.
My Dear Patients,
I've had the pleasure of calling Potsdam home for the last thirty-three years. On July 2, 1980, I arrived in Potsdam with all my worldly possessions packed into my little car to join the practice of Dr. Murray Mintz at 83 Market Street. In the intervening years, I met my wife Nancy, and together we raised two great kids, Mallory and Scott.
I've been fortunate to tend to the same patients from childhood into adulthood. I've worked with the same staff since I started in the office, and most of the people I hired are still here. The office has been remodeled many times, and in its present incarnation, the Potsdam Center for Innovative Dental Technologies, contains state of the art equipment.
My greatest satisfaction came from the people I've had the pleasure of working with over the years. By working side by side with a group of bright, motivated, and curious individuals, it forced me to become the best dentist I could be, for my staff is as knowledgeable as a dentist, always sitting next to me and judging my work. I know that a contented staff translated into a happy patient and a harmonious work environment.
My children have both relocated to the West, my son in Denver and daughter in Tucson. I've chosen to move closer to where they live, so am going to retire. In 2009, we welcomed Dr. Aaron Acres to Potsdam and the practice, and it has become a successful union. Dr. Acres is a fabulous dentist with a terrific chair side manner, and will continue the tradition of excellent dental care in a comfortable environment that patients expect when they arrive at 83 Market Street. My wonderful staff will continue to work with Dr. Acres.
It's more the exception than the rule to have only one job for their entire career. I am humbled by the trust that has been given to me by the great patients of this practice, and appreciate all the North Country has offered me over the years. I feel I've ridden my bike on every paved road in St. Lawrence County. There are new roads for me to explore in Colorado and Arizona. As I cycle off, a part of me will always remain in this building, and I am secure in the knowledge that Dr. Acres will continue to provide fine dental care to our present and future patients.
Sincerely,
Dr. Terry Reed
My wife and I doing what we love.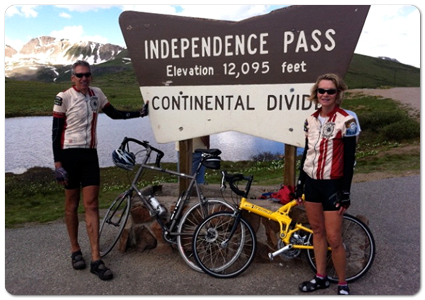 My two kids Mallory and Scott in Thailand this summer